COLD FOR 24 HOURS, HOT FOR 12 HOURS    
【SUPER INSULATION PERFORMENCE】
With our new Vacuum Water Bottle, you can keep your beverage hot or cold for hours thanks to its double-wall vacuum insulation and extra copper lining between the two stainless steel walls. Perfect for any season, this bottle can keep your water cool even on the hottest summer days, or keep your coffee steaming hot during chilly mornings. Don't worry about filling your bottle with ice or heating up your drink multiple times a day anymore. Our Vacuum Thermo Bottle will keep your drinks at the ideal temperature all day long, so you can stay refreshed and energized without any interruptions. Available in a variety of styles and colors, our bottle is not just functional but also stylish. Upgrade your drinking experience with our Vacuum Thermo Bottle today and enjoy a drink that always hits the spot!

304 STAINLESS STEEL MATERIAL, SAFE AND REUSABLE
【SOLID STAINLESS MATERIAL】
Our Vacuum Thermo Bottle is made from food-grade stainless steel inside and out, guaranteeing no metallic aftertaste and free from BPA and plastic lining, so you can enjoy your drink without any worries. With our new double-wall insulation, your coffee, tea, or soda stays hotter and colder for longer, making sure your drinks are always at the perfect temperature. Whether you're heading out for a hike or just need a quick caffeine boost during the day, our Vacuum Thermo Bottle has got you covered. Plus, with its sleek design and variety of colors to choose from, this bottle is not only functional but also fashionable. Upgrade your drinking experience today with our Stainless Steel Bottle and let it be your new go-to source to keep your drinks hot or cold while enjoying every sip without worrying about any unwanted tastes or chemicals.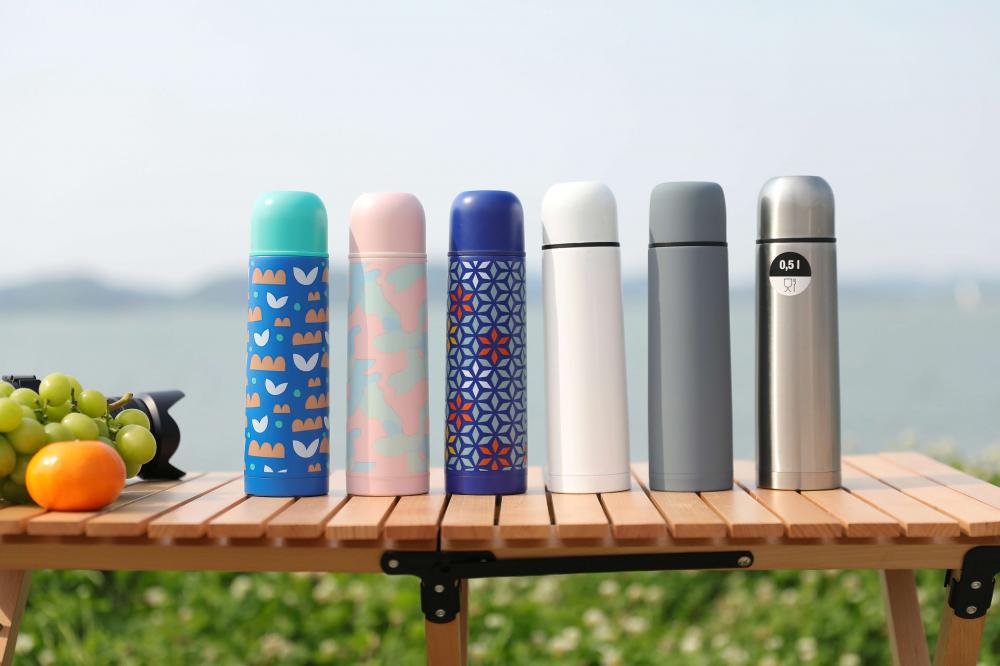 350ml/500ml/750ml/1L MULTIPLE CHOICES
【MULTIPLE CAPACITY BOTTLES】
Whether you need a smaller bottle for a quick refreshment on the go or a larger one to keep you hydrated throughout the day, we've got you covered with our multiple capacity cups choices.We have many capacity cups for you to choose from. Small cups of 350ml and 500ml, large capacity of 750ml and 1L stainless steel insulated cups are available. As a factory, we also offer customization services to meet the needs of large orders of special Stainless Steel Vacuum Water Bottle.

VARIETY OF PROCESSES AT AFFORDABLE PRICES
【BOTTLE DESIGN CAN BE CUSTOMIZED】
As a complete production line of insulation cup factory, we have a perfect process, we can do all kinds of surface treatment: glossy texture, matte texture, rubber texture, gradient color, single color pattern, mixed color pattern, cup body pattern, whole bottle pattern design, these processes we can meet.The price of our products is very affordable. Since the factory does not need rent, the production line runs 12 hours a day, and under the leadership of a factory manager who knows technology, our factory has a very low rate of defective products, so our prices are also very competitive.